The medal of Honor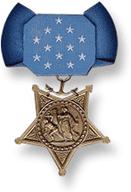 Established in 1861, The Medal of Honor is the highest award for valor in action against an enemy force that can be bestowed upon an individual serving in the Armed Services of the United States. It is generally presented to its recipient by the President of the United States of America in the name of Congress. The Medal of Honor is the highest military decoration awarded by the United States government. It is bestowed on members of the United States armed forces who distinguish themselves "conspicuously by gallantry and intrepidity at the risk of his or her life above and beyond the call of duty while engaged in an action against an enemy of the United States."
The Medal of Honor is one of two military neck order awards issued by the United States and is the sole neck order awarded to members of the armed forces. The Commander's Degree of the Legion of Merit is also a neck order but it is only authorized for issue to foreign dignitaries.
As the award citation includes the phrase "in the name of Congress", it is sometimes erroneously called the Congressional Medal of Honor; however, the official title is simply the Medal of Honor.
---
HISTORY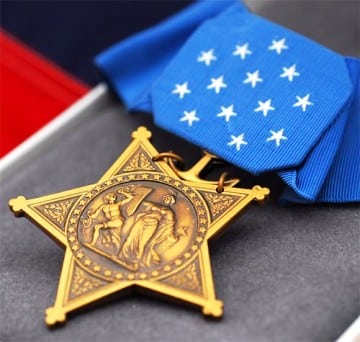 The first formal system for rewarding acts of individual gallantry by American soldiers was established by George Washington on August 7, 1782, when he created the Badge of Military Merit, designed to recognize "any singularly meritorious action." This decoration was America's first combat award and the second oldest American military decoration of any type, after the Fidelity Medallion. The award consisted of a purple cloth heart. Records show that only three persons received the award: Sergeant Elijah Churchill, Sergeant William Brown, and Sergeant Daniel Bissel, Jr.
The Badge of Military Merit fell into oblivion until 1932, when General Douglas MacArthur, then Army Chief of Staff, pressed for its revival. Officially re-instituted on February 22, 1932, the now familiar Purple Heart was at first an Army award, given to those who had been wounded in World War I or who possessed a Meritorious Service Citation Certificate. In 1943, the order was amended to include personnel of the Navy, Marine Corps, and Coast Guard. Coverage was eventually extended to include all services and "any civilian national" wounded while serving with the Armed Forces.
Although the Badge of Military Merit fell into disuse after the American Revolutionary War, the concept of a military award for individual gallantry by members of the U.S. armed forces had been established. In 1847, after the outbreak of the Mexican-American War, a Certificate of Merit was established for soldiers who distinguished themselves in action. The certificate was later granted medal status as the Certificate of Merit Medal. After the Mexican-American War, the award was discontinued, which meant there was no military award with which to recognize the nation's fighting men.