VADM Levering Smith Award
Established in 1986, The Vice Admiral Levering Smith Award for Submarine Support Achievement recognizes specific or continuing submarine support actions which have most contributed to the furtherance of the spirit or fighting mettle of the Submarine Force. Submarine support actions shall include service in submarine support activities, submarine maintenance and training activities, and other such activities engaged in direct support of the operating Submarine Force. One award is presented annually to a Navy or Naval Reserve service member (Officer or Enlisted) lieutenant commander or junior.
Read about Vice Admiral Levering Smith
2018 Award Winner: MTCS Jeremy Reardon
Citation: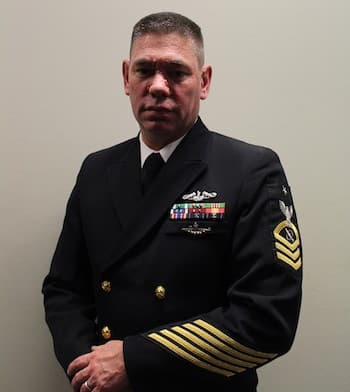 For outstanding meritorious service as Chief Master at Arms for Naval Submarine Support Center, Bangor, Washington.
Senior Chief Reardon leads a team of one Master Chief, two Senior Chiefs, and eight Chief Petty Officers. This team provides oversight, management, and counseling to junior enlisted staff personnel who expertly manage over 80 transient personnel transferred to the Support Center for various legal, medical, psychological, administrative, and disciplinary reasons. Under his cognizance, these personnel have been separated, converted, or returned to the submarine fleet more resilient, and ready to do their duty. While under his care, he has personally mentored many of them, assisting them with diverse individual and family challenges. Other support provided by Senior Chief Reardon includes establishing an indoctrination program for all newly reported personnel to local submarines, providing for the setup of all local rating examinations, and providing ceremonial assistance for all change of command and retirement ceremonies. Senior Chief Reardon is on call 24/7. On numerous occasions he has personally intervened in cases involving attempted suicide, taking affected individuals on his own to medical/psychiatric facilities. In addition to all his assigned duties, he serves as a key command liaison effectively interfacing with multiple commands. He also serves as the building manager for facilities that house over 4000 personnel. He personally sought out to lead the CPO Phase II Legacy Academy for the Pacific Northwest Region. His efforts have had substantial impact across the entire submarine force. He is the very definition of a behind-the-scenes unsung hero, who simply makes things happen due to his dedication, exceptional integrity, leadership, and sense of ownership. He is most deserving of recognition by the Naval Submarine League Levering Smith Award for submarine support achievement.
VADM Levering Smith
Levering Smith graduated from the U.S. Naval Academy in June 1932. During World War II, he participated in campaigns and engagements in the Pacific including the Battles of Santa Cruz and Lunga Point, and surviving the sinkings of the aircraft carrier USS Hornet and the cruiser USS Northampton. He also took part in the Battle of the Philippine Sea in the cruiser USS Indianapolis.
Admiral Smith's contribution to the promotion of technology began after his distinguished WWII service with his assignment to the Naval Ordnance Test Station, China Lake, California. In that work, he concluded that a small, solid propellant missile would be the logical choice for surface ship and submarine launching. This work propelled him into the pursuit of a viable strategic deterrent for the nation and caused the disbanding of the joint Army-Navy Committee pursuing the application of a liquid fueled missile. Admiral Smith was appointed Technical Director of the Navy's Special Projects Office, which was given complete responsibility for the Polaris Program.
The years that followed, with Admiral Smith as Technical Director, then Director of the Strategic Systems Project Office, saw the deployment of an operational system in just four years. After Polaris came the Poseidon and Trident Programs, each developing a set of technologies crucial to the success of these strategic force elements. Admiral Levering Smith, more than any other individual, was responsible for the successful marriage of the ballistic missile with the nuclear submarine. His early pioneering in large solid propellant motors made the submarine launched ballistic missile a safe and practical reality. His technical direction in advancing technology of solid propellants, electronics and weight reducing materials led to increased range and payload that made the Fleet Ballistic Missile the most survivable of our strategic forces. His management practices focused the efforts of a highly successful and enduring government and industry team on common goals with clearly understood priorities.
Recipients of the Naval Submarine League Vice Admiral Levering Smith Award for Submarine Support Achievement can be justly proud to be thus associated with this naval officer, scientist and gentleman of enormous proportion.