RADM Frederick B. Warder Award
Established in 1986, The Rear Admiral Frederick B. Warder Award for Outstanding Achievement recognizes a specific action, contribution or continuing performance, which most positively influenced the reputation, readiness or future well-being of the submarine force. One award is presented annually to a government employee (Civilian, Active or Reserve military, LCDR or junior).
Read about RADM Frederick B. Warder
2022 Award Winner:
LT Curtis R. Olsen, III, USN

for outstanding meritorious service in the performance of duties as Operations Officer on USS New Mexico (SSN 779).
Lieutenant Olsen has performed superbly in several key roles since reporting on board. Taking over as the Special Operations Forces (SOF) Officer, he planned and supervised a first of its kind Submarine-SOF rehearsal while forward deployed to the European Theater and Sixth Fleet. His efforts greatly developed and refined tactics, techniques, and procedures vital to Naval Special Warfare and Virginia-class submarine lockout trunk operations. The Commanding General Special Operations Command-Europe reviewed several rehearsals of these operations and stated that Lieutenant Olsen's leadership was a key factor in their success. In addition, he contributed to successful executions of multiple at-sea operations, including a Combat Readiness Examination, Undersea Electromagnetic Trials, and a demonstration for Naval Reactors and COMSUBFOR in support of the Trilateral AUKUS agreement. He excelled at operational planning, tactical training, and watch team leadership, resulting in establishing high standards throughout the ship. He is an expert teacher and mentor and has excelled in the development and improvement of his peers. He assists the other junior officers in the wardroom in their professional development including their preparation for the Engineer's exam. He shows dedication to developing the next generation of sailors.
Lieutenant Curtis R. Olsen, III is most deserving of recognition by the Naval Submarine League to receive the Rear Admiral Frederick B. Warder Award for Outstanding Achievement.
Rear Admiral Frederick B. Warder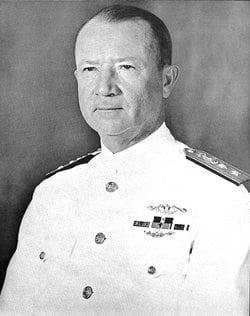 The Naval Submarine League Outstanding Achievement Award is named for Rear Admiral Frederick Burdette Warder, USN (Retired.) Admiral Warder was a true hero of the Submarine Service during World War II and a dynamic leader throughout his active career. As a result of his aggressive and innovative leadership during a war patrol, he was dubbed "FEARLESS FREDDIE," by his crew in Seawolf.
A member of the 36th class at the Submarine School, he served in S-16 during his initial submarine training and went on to command S-38 and then Seawolf(SS 197). He completed seven war patrols in command of Seawolf, and is credited with sinking eight Japanese ships totaling 38,900 tons. For his performance in Seawolf, he was cited for "displaying great courage and leadership in the face of aggressive enemy advances…" Later, he was assigned by Commander Submarine Force, Pacific Fleet as the Commander of the second Wolfpack, with Snook, Harder, and Pargo in the pack. Their combined action sank seven ships.
His wartime duties concluded with his assignment as Commander Submarine Division 122. From 1944 to 1946, then Captain Warder was Commanding Officer of the Submarine School. Here again, the young submarine officers gained from his leadership, and many of them became the first commanding officers of our early nuclear powered and ballistic missile submarines. RADM Warder's submarine career culminated in his assignment as Commander Submarine Force U. S. Atlantic Fleet, where his leadership was again felt, as submarines moved into the era of nuclear power and the sea based leg of the nation's triad of strategic defense.
Recipients of the Naval Submarine League Rear Admiral Frederick B. Warder award for Outstanding Achievement can be justly proud to have this link with a courageous, aggressive and innovative fighter who was esteemed by his crew, and who contributed greatly to the advance of submarine warfare.