Chief Paul Golden Saunders Award
The Naval Submarine League Chief Paul Golden Saunders Award for Submarine Professional Excellence recognizes Chief Petty Officers (Active or Reserve) for achievement, contribution, specific action or consistent performance, which best exemplifies the traditional spirit embodied in the Submarine Force.
Read about Chief Paul Golden Saunders
2018 Saunders Award Winner: STSCS Edward J. Plew IV, USN
Citation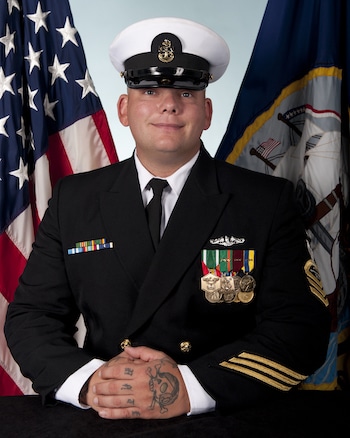 For superior professional excellence as Weapons Department Leading Chief Petty Officer on USS HARTFORD (SSN 768).
Senior Chief Plew has established a record of uncompromising performance and dedication to the crew of HARTFORD. His seasoned perspective is incorporated into all aspects of shipboard operational planning and mission execution. He significantly assisted in training eight junior officers and three department heads to stand Officer of the Deck and Contact Manager in support of missions throughout a multitude of diverse operations. His efforts directly contributed to the ship receiving the highest grade in a Combat Readiness Evaluation. Based on his previous experience in the European Command Area of Responsibility, he acted as an ambassador for the Force to the Royal Navy during Ice Exercise 2018. He provided best practices regarding navigation of seldom transited areas and procedures necessary to safely transit the Arctic Circle. His personal initiative facilitated the flawless execution of the first multi-national North Pole surfacing involving three nuclear submarines. Acting as a personal mentor to over 40 sailors, his guidance resulted in the ship never requiring non-crew support to get underway. He has produced one of the most cross-trained weapons departments in the submarine fleet. By assuring high personal standards and direct interactions with trainees, he improved the number of qualified Sonar Supervisors, Diving Officers, and Chiefs of the Watch. Senior Chief Plew's leadership and unrelenting dedication to the current and future leaders of our force have made significant contributions in assuring the readiness of the force. He is most deserving of the Naval Submarine League Chief Paul Golden Saunders Award for submarine professional excellence.
Chief Paul Golden Saunders
Chief Paul Golden Saunders was a highly decorated United States Navy submarine sailor who was twice awarded the Silver Star medal during World War II.He enlisted in the Navy in 1936 and served for 26 years before retiring as GMGC(SS) in 1962. Prior to submarines, Chief Saunders served on the light cruiser USS RALEIGH (CL-7) and on destroyers MCCOOK (DD-252) and SAMPSON (DD-394).
Paul qualified in submarines aboard R-4 (SS-81) in 1940 and subsequently served in BARB (SS-220), CUSK (SS-348), CARBONERO (SS-337), and THEODORE ROOSEVELT (SSBN-600).
The only landing of US military forces on the island of Japan during hostilities included Saunders. They destroyed a 16-car train on the coastal railway with an explosive charge, using a microswitch under the rails to trigger the explosion.
Paul was highly regarded as one of the most decorated enlisted men in the Submarine Service, distinguishing himself during World War II while serving on board the BARB. Paul made all twelve of BARB's war patrols, five in the Atlantic and seven in the Pacific and was Chief of the Boat (COB) for patrols #9–12. He was also COB for the submarines CUSK, CARBONERO andTHEODORE ROOSEVELT.